Only 1% of the High School football players will actually be recruited and attend a D1 school.  Despite this fact it seems like 100% of all athletes will go after the big school offers and walk right past much better options.  Last weekends Satellite camps touted the number of D1 schools in attendance.
Having said that 99% of the 1,000 athletes that attended those two camps will never get their offer from the Pac 12 or Power 5 conference schools.
This is where thee RDAF Showcase Camp June 30th, 2016 in Kent, Washington comes in.  They proudly exclaim the fact that NO POWER 5 FOOTBALL COACHES will be at their Camp.
Wrap your mind around that.  They are actually promoting the fact that none of the big colleges are coming.
Having said that all but 3 of the Big Sky Schools will be there and they are coming looking to offer our NW best!  So are about 15 schools like Central Washington and Western Oregon and Pacific Lutheran and Pacific University.
This is the ONLY camp aimed at setting up a small camp and who are trying to bring in the coaches that will recruit the 99%.
This means you need to be in Kent, Washington June 30th for the Rough Diamonds Athletic Foundation.  NWPR will be there and will cover all the athletes at the Camp.  If you add us on FB and Twitter (See Below) and Tweet #NWRISEUP  or #BESTFITCAMP I will personally watch your film and add you on Social Media!
The Camp may hit 250 prospects and those athletes will be in 3 separate sessions so perhaps 80 athletes per session and every Coach in the house will be working with each position for 2 hours and will not be distracted all over the field.  THE FIT IS THE RIGHT ONE!
---
June 30th RDAF CAMP The Perfect Fit for the 99%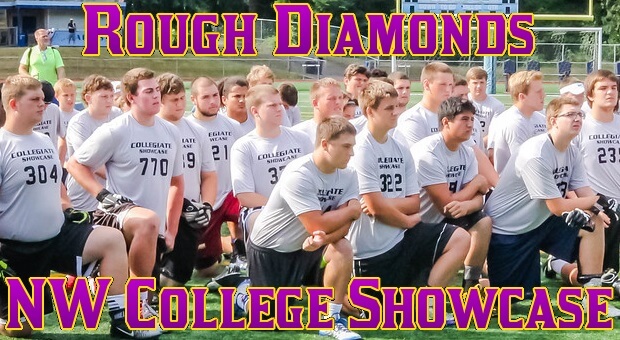 Colan Sewell and the Rough Diamonds Athletic Foundation (RDAF) are proud to announce the fifth annual RDAF Summer Showcase. The event will be held June 30th at French Field in Kent, WA.
"This year we are expecting 20 to 30 schools from FCS, D2, D3, NAIA and Junior College levels," Sewell told NEI. "There really is a school for every athlete in attendance."
One of the problems with many showcases nowadays is they have become cattle calls. They end up with 600 to 1000 athletes spread out over multiple fields. The problem for colleges with one coach in attendance representing their program is it becomes physically impossible to see every athlete at different positions across the many fields.
Sewell and RDAF have found the recipe for success in their unique setup.
"We structure our format with four separate sessions," Sewell said. "This way we keep everything on one field and the numbers low, allowing coaches to see every athlete, at every position throughout the day.
"Over the years we have taken suggestions from college coaches about how to run the event to benefit them. Last year we added a QB only session at their request, and it was a major success."
"This year we are keeping the same format, but will be changing some of the drills to allow for more game-like reps for the athletes."
At the end of the day, this event is about maximizing the exposure for every athlete in attendance, and really being the best opportunity to help athletes move forward in the recruiting process.
Below is a look at the schedule for the day.
For more information on the event, visit – RDAFShowcase.com